Where can i sell my Chromebook?
If you have a Chromebook and are looking to sell it, you're likely trying to figure out the best way to do it. Selling a Chromebook can be tricky because they're not as widely used or accepted as traditional laptops and computers. But that doesn't mean there aren't plenty of options for getting your device sold quickly, easily, and for a good price.
Selling your Chromebook is an opportunity to get rid of some electronic clutter, make money off of an old device, or just upgrade to something better. If you want to know where to sell your Chromebook, the first thing you should consider is how much value it has — how old it is, what kind of condition it's in, and what model it is — all of which will affect how much you can get for it.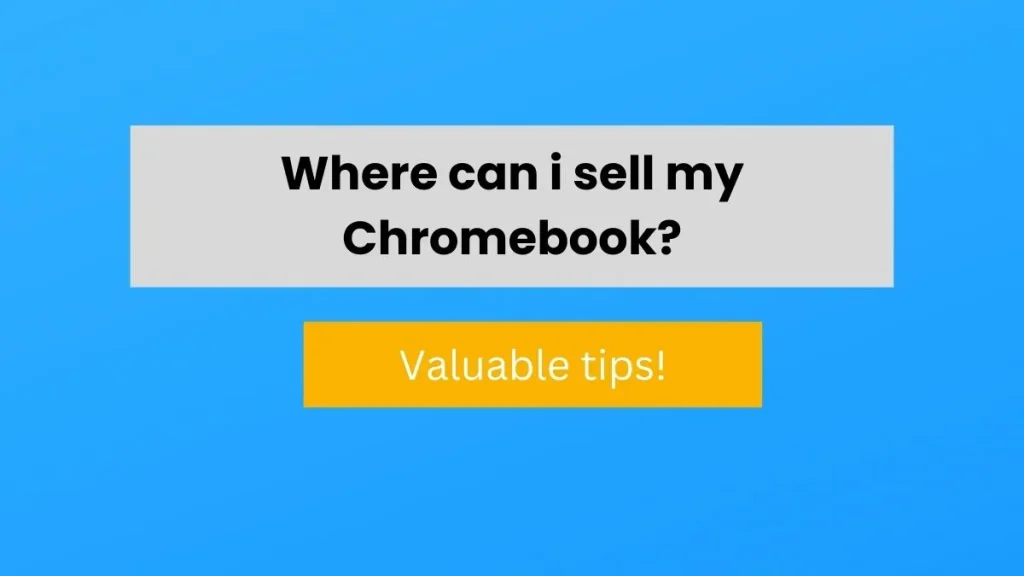 Research the local market for similar Chromebooks and their prices
The first step is to research what similar models are selling for in the local market. This is important because pricing too high could mean no one wants to buy it, while pricing too low could leave money on the table.
Once you've established an appropriate price range, the next step is to clean and defragment your Chromebook before listing it. This will not only make it look more attractive to potential buyers but also increase its performance.
List your Chromebook on tech-focused classified sites like Craigslist or Gumtree
The next option you have is to list your Chromebook on tech-focused classified sites such as Craigslist or Gumtree. Both of these can help you reach a wider pool of people who are interested in purchasing used electronic devices.
You could also consider selling through a refurbished electronics store or online marketplace such as eBay or Amazon — this could potentially be more lucrative than the other avenues mentioned above due to the larger customer base they offer.
Take advantage of social media platforms like Twitter, Instagram, and Facebook:
Another great way to get your device sold quickly and easily is by using social media platforms like Facebook, Twitter and Instagram. By posting about your sale on these platforms, you'll be able to reach a much wider audience of potential buyers.
You should also consider offering delivery options. Not only will this make the process more convenient for buyers, but it will also encourage them to purchase as they won't have to worry about picking up their device in person.
Consider advertising your device through online ads or sponsored posts
Advertising is another great option for selling your Chromebook, as it can help you reach a larger pool of buyers and potentially get more money for your device. You could consider placing an ad in the classifieds section of local newspapers, or running sponsored posts on popular social media platforms such as Facebook and Instagram.
You could also use Google Ads to promote your sale and reach potential buyers who are specifically searching for a device like yours. All of these options will allow you to target specific audiences, so make sure you do your research before deciding which one is right for you.
Consider selling the device through a refurbished electronics store or online marketplace:
Finally, selling your Chromebook through a refurbished electronics store or online marketplace could be the most lucrative option available. Both eBay and Amazon are great options for selling used gadgets and offer plenty of potential buyers who may be more interested in buying a second-hand device than one that is brand new.
If you go down this route, make sure to properly package and ship your device to ensure it reaches the buyer in good condition. Additionally, you should also consider offering delivery options — this not only increases convenience but also attracts more buyers.
Additional Tips to sell a Chromebook at good price:
Take good quality photographs of your device from different angles and include them in the listing.
Be upfront about any flaws or damage that the device has so potential buyers know what to expect.
If you are selling through an online marketplace, make sure to properly package and ship your device upon sale.
Offer a warranty on the device if possible, as this will increase trust between buyer and seller.
Add additional features such as accessories, cases or chargers if they are available, as these could help increase its value.
Consider offering discounts or promotions to attract more buyers.
Monitor the prices of similar devices on the market and adjust your own accordingly.
Make sure to be responsive when it comes to answering potential buyer's inquiries about the device.
Always include multiple payment options such as PayPal, debit/credit cards, cash, or digital wallet services.
Finally, take the time to write a detailed description of the device and its features to give potential buyers an idea of what they are getting.
By following these tips, you'll be able to maximize your chances of successfully selling your Chromebook and getting the most out of it! Good luck!
FAQs
Are Chromebooks selling well?
Chromebooks are very popular in the market and they have seen a steady rise in sales over the past few years.
Can you sell expired Chromebooks?
Yes, you can sell expired Chromebooks. However, you should disclose this information in your listing so that potential buyers are aware of the device's condition.
Do you need to wipe a Chromebook before selling?
Yes, you should wipe the Chromebook completely before selling it. This will ensure that all of your data and personal information is erased from the device.
Can I sell a broken Chromebook?
Yes, you can sell a broken Chromebook however it's important to mention the device's condition in your listing. This way, potential buyers will know what they're buying and be able to make an informed decision.
Are there any risks involved with selling my Chromebook?
The risk of selling a Chromebook is minimal if you take the necessary precautions. These include wiping the device completely, properly packaging it for shipping and disclosing any relevant information about the device in your listing. Additionally, you should also opt for a secure payment method such as PayPal or credit card to protect yourself from fraud.
Conclusion
Selling a Chromebook is an easy and efficient way to make some extra money. By using the right strategies such as leveraging social media platforms, advertising your device, or selling through an online marketplace, you can quickly reach potential buyers and get your device sold in no time. Just be sure to take all of the necessary precautions when doing so to ensure a safe and secure transaction.