Write for Us Technology, PC, Laptop, Chromebook and Computers Guest Post Submissions
Are you a passionate blogger looking for an outlet to express yourself? Do you want to join the blogging community, write for us technology, PC, computer or laptop guest post and grow your writing skills? If you answered yes, then I invite you to write for us here at Laptops Papa.
We are always on the lookout for experienced and fresh authors who can bring something unique and insightful to our platform.
Whether you're looking to share your thoughts on techology related topics or just wanting an audience for your latest ideas – we will happily accept guest posts from budding authors as well as established ones.
At Laptops Papa, our goal is to create a helpful resource of information about laptops, technology trends and more that readers from all over the world can access.
Therefore, we welcome all kinds of topics that are related to tech. However, you should ensure that your article is informative and provides actionable steps or advice.
If you decide to write for us here, then you can expect to get exposure in front of a large audience which could boost your personal brand as well as the possibility of getting more paying gigs down the line.
Additionally, our blog has been designed and optimized for SEO purposes so any content published on Laptops Papa will rank better than usual in search engine results pages (SERPS).
Topics we accept for Write for Us Technology, Laptop, PC, Chromebook Guest Post
Latest trends in technology and gadgets
Emerging technology and inventions in the tech space
Tech product reviews, comparisons, and ratings
Emerging software technologies, tools & applications
Tips, tricks & hacks related to laptops & other devices
Computer, PC, laptop, Chromebook
Warning! We don't accept any article related to casino, gambling, or something like that. Moreover, we don't allow links to these types of sites.
When submitting your post request, please provide us with the following information:
Title of your post
Brief introduction to the topic you wish to write about
Sample text from your completed post so we can get a better feel for it.
Please note: We do not accept any posts that have already been published elsewhere online. All submissions must be exclusive to Laptopspapa.com.
If you have any questions or concerns about submitting a guest post on technology, please feel free to contact us at
Email: admin@laptopspapa.com
Article guidelines for Write for Us Technology, Laptop, PC, Chromebook Guest Post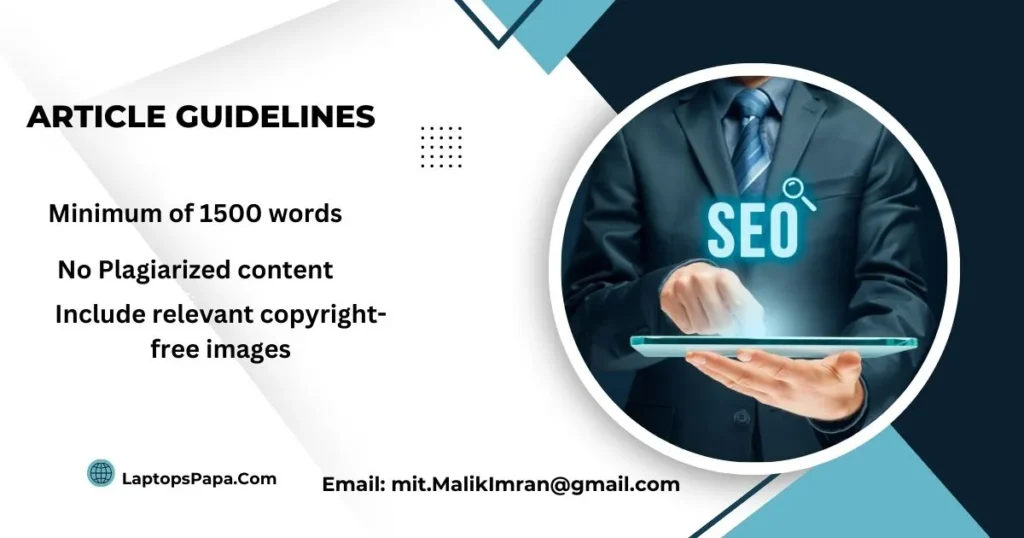 • Length: Minimum of 1500 words.
• Topic: Must be related to technology topics, such as Computer, PC, laptop accessories, laptop maintenance tips, buying guide reviews for laptops and Chromebooks, etc.
• Language & Grammar: Articles should be written in English and free of errors.
• Formatting & Images: Use headings and subheadings to break up the content visually and make it easy to read. Include relevant images (with proper attribution) when applicable.
• Originality & Quality: Content must be original and of high quality that adds real value to our readers' experience. Plagiarized content will not be accepted.
• Links: You may include a maximum of 1 outbound links to authoritative sources and one link back to your website.
• Promotion: We do not allow any self-promotional content in the post and reserve the right to edit or remove it if necessary.
• Submission: You can submit your article as a Word document or Google Doc attachment via our contact page or email. Please also include a brief summary of your proposed article along with the submission.
Benefits of write for us laptop guest post at LaptopsPapa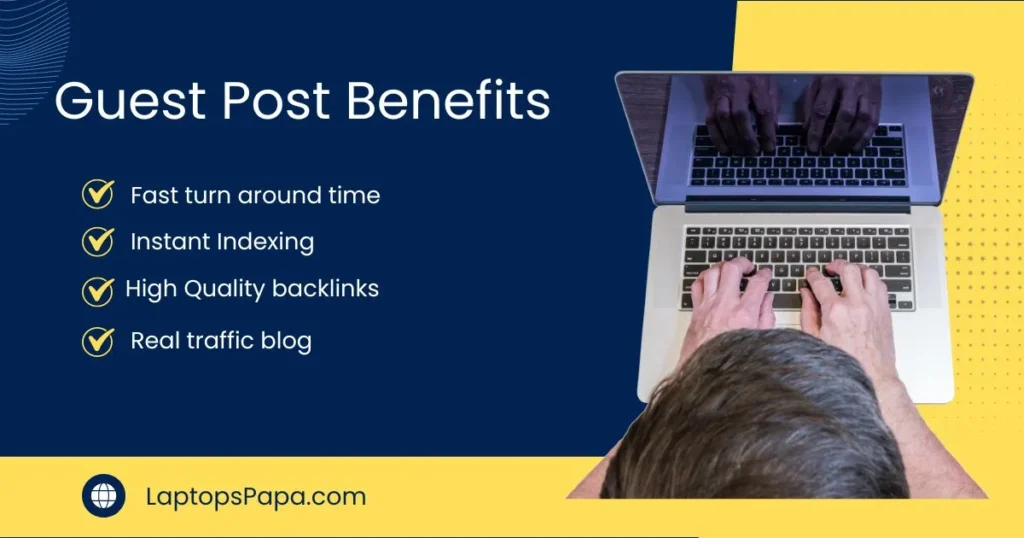 Reach a larger audience:
We have a large readership base that is continuously growing, giving you the opportunity to reach more people and get your work noticed.
Build authority in the tech space:
Your blog posts on laptopspapa.com will help establish you as an expert in the field of technology, driving more traffic and potential leads to your website or business.
Get quality backlinks:
By contributing a guest post to our platform, you can earn high-quality backlinks from authoritative sites which can improve your SEO rankings in SERPs (Search Engine Results Pages).
Get more exposure & recognition:
As a technology guest author, you can expect to get more exposure and recognition for your work, leading to better career opportunities.
Fast turn around time:
We will make your post live within 2 working days after performing a quality check.
Instant Indexing:
Our website indexing is fast. So, after your post is published, it will be indexed within a week. You can contact us if your post is not indexed after a week.
Search terms related to Write for Us Technology, Laptop, PC, Chromebook Guest Post:
"Laptop guest post submission"
"Write for us laptop technology"
"Guest blogging laptop reviews"
"Laptop tech blog guest writer"
"Submit laptop-related guest post"
"Guest post opportunities for laptop enthusiasts"
"Laptop tips and tricks guest writer"
"Write for us technology blog"
"Computer Guest post"
"Write for Us Computer"
"Guest blogging laptops and gadgets"
"Tech guest post submission guidelines"
"Laptop and computer guest posts wanted"
"Guest writer for laptop and tech blog"
"Tech review guest post opportunities"
"Guest post submission laptop news"
"Contribute laptop tech articles"
"Guest blogging technology trends"
"Laptop industry guest post"
"Tech blog write for us"
"Guest post laptop buying guide"
"Write for us tech tips and hacks"
Write for Us Technology
Tech Write For Us
Technology Blogs Accepting Guest Posts
Submit a Guest Post Technology
Guest post technology
Technology write for us opportunities
Free guest post on technology blog
Technology and laptop Write For Us
Write For US Laptops
Laptop write for us blog
Chromebooks write for us
Write for US Software
Software Write For Us
"Write For Us PC"
"PC Guest Post"
Write For US Laptops and Chromebooks
Best Regards,
Laptopspapa.com Team.
EmaiL: admin@laptopspapa.com